GARDEN PESTS & DISEASES A-E
Grosafe Garden has a wide range of pesticides to assist in controlling many common pests and diseases found in New Zealand gardens. Our range (apart from Buxus Blight Fighter and GroVentive® Garden) is certified for organic input No.4547.
Please check our series of Spray Calendars for helpful information on the optimum times to apply treatment.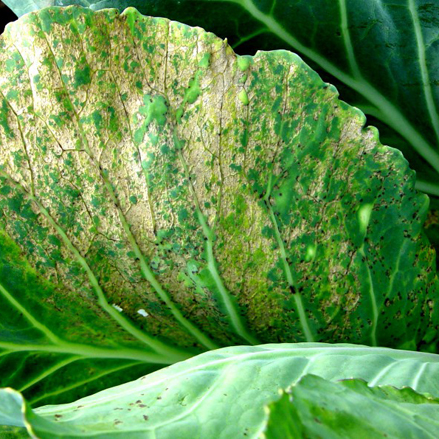 Downy Mildew
Downy mildew (often confused with powdery mildew) is a plant disease caused by a spore that spreads from plant to plant via water. Symptoms include dark patches on top of the leaves, often with corresponding furry or downy growth on the undersides. Downy mildew occurs in humid conditions and affects vegetables, fruits and ornamental shrubs and flowers.
Treat with FreeFlo Copper Roses & Ornamentals, FreeFlo Copper Fruit & Vegies or Buxus Blight Fighter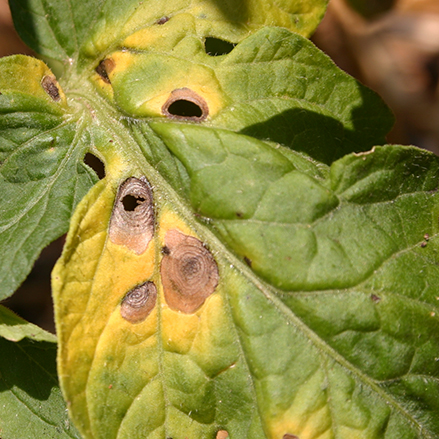 Early Blight
Common on tomato and potato plants, early blight is caused by the fungus Alternaria solani . Symptoms first appear on the lower, older leaves as small brown spots with concentric rings that form a "bull's eye" pattern. As the disease matures, it spreads outward on the leaf surface causing it to turn yellow, wither and die. Eventually the stem, fruit and upper portion of the plant will become infected. Early blight overwinters on infected plant tissue and is spread by splashing rain, irrigation, insects and garden tools. In spite of its name, early blight can occur any time throughout the growing season. High temperatures and wet, humid conditions promote its rapid spread. In many cases, poorly nourished or stressed plants are attacked.
Treat with FreeFlo Copper Fruit & Vegies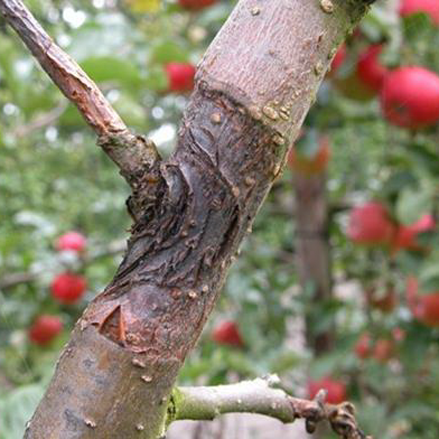 European Canker
European canker is a debilitating fungal disease of apple trees especially in wetter areas of New Zealand. The spores are immediately infectious if they land on fresh wound tissue. They are spread by rain splash. Lesions develop from these infections and spread concentrically eventually girdling branches. Spores from new cankers are spread primarily by rain or overhead irrigation. New infections are thought to occur mainly in the autumn through leaf scars, with symptoms appearing the following spring. Older cankers produce airborne spores (ascospores) that can initiate new infections at a distance from the source. Prune out diseased wood.
Treat with InocBloc Organic Pruning'n'Paste